Albuquerque Shredding Service
We will connect you with affordable shredding options for your sensitive business information in Albuquerque. We understand your need to protect your private records and for every organization to comply with New Mexico and federal privacy regulations like FACTA, SOX, and HIPAA.
Albuquerque Shredding Service
Albuquerque Shredding Service partners with shredding companies across the area that offer different shredding service options. These services are designed to meet your requirements at affordable prices. Taking proper care of documents is important, so our partners seek to make this process easier and more convenient.
Whether you need recurring services or one time shredding, Albuquerque Shredding Service can help. Additionally, shredding services work with what you need. This includes offsite and mobile services. If you need to witness the shredding, there is an option for that. Shredding services ensure that business, customer, or personal data is properly protected and safe from exposure.
For more details on Albuquerque Shredding Service, just request a free quote today or call us at (505) 288-3530.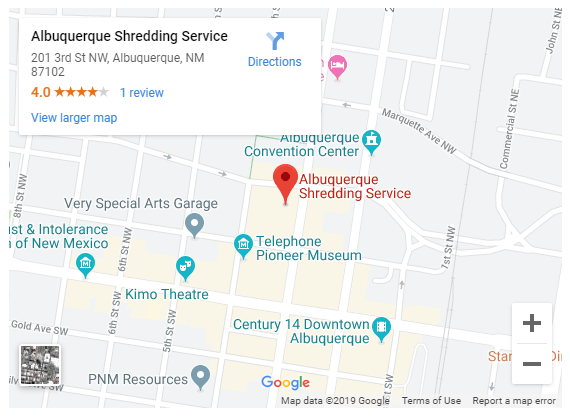 Get Free Quotes on Shredding in Albuquerque
Shredding Services in New Mexico
Service Options Available in Albuquerque
Ongoing Service – Daily, weekly, or monthly scheduled shredding service. Secure, locked shred consoles are provided no cost when shredding is done at least monthly.
Purge Service – For companies that want annual, one-time, or occasional shredding. Costs are calculated based on quantity shredded.